The Miami Beach Jewelry & Watch Show, produced by the Palm Beach Show Group, will return to the City of Miami on February 1 – 4, 2018 at an exciting new location. The second edition of the show will be held at One Herald Plaza where more than 100 international dealers will showcase extraordinary jewels and timepieces.
This year's exhibition highlights include marquee pieces from a number of renowned dealers including: Yafa Signed Jewelry, Symbolic & Chase, Robert Maron, Camilla Dietz Bergeron, Issac Nussbaum, Morelle Davidson, Only Authentics, Luxury Vintage Concepts and Vivid Diamonds. Specific items to watch for:
Signed Harry Winston 1960's platinum diamond cluster earrings. The top centering two diamonds, accented by pear shaped diamond and marquise-shaped diamond weighing total approximately 65cts; Yafa Signed Jewels.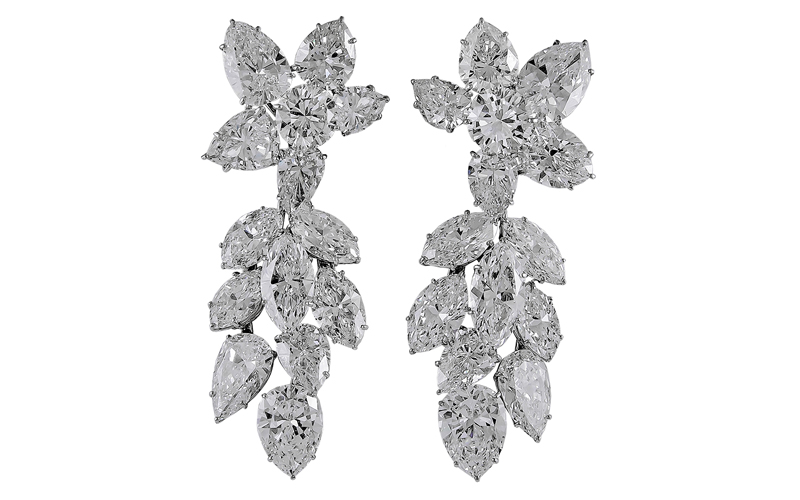 Signed Cartier gem-set, enamel and mother-of-pearl gold minaudiere of stylized Egyptian influence. The eight-sided rectangular-shaped god box is accented with black enamel contours, embellished with undulating white enamel lines and mother of pearl detail; Symbolic & Chase.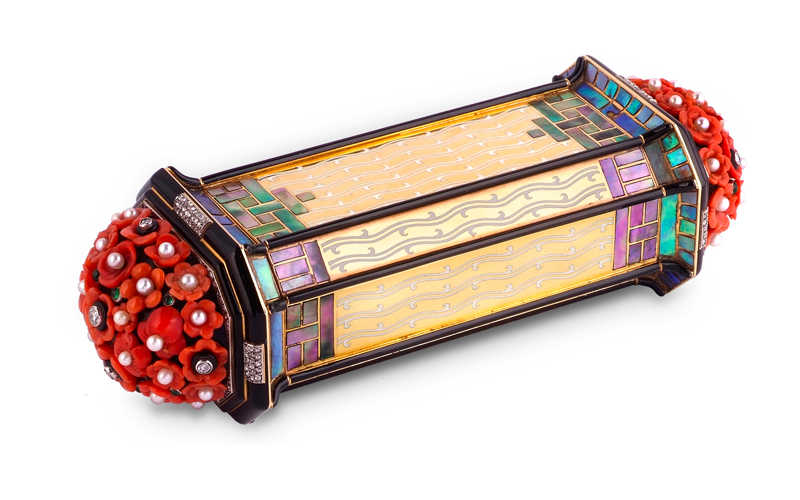 Rolex Daytona 6263 RCO Paul Newman Dial Steel, 38mm circa 1969; Robert Maron.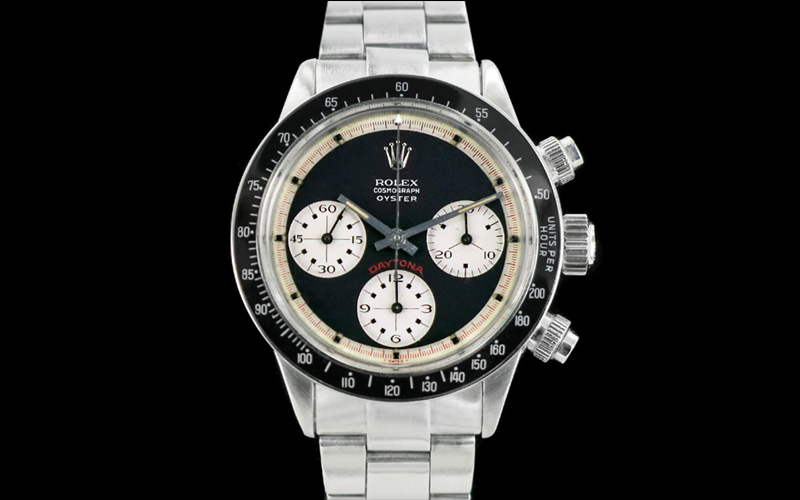 Alluring three-stone diamond engagement ring featuring a GIA graded 14.20ct light yellow radiant cut diamond with VS2 clarity and mounted in a handmade platinum ring accented by 2 trillion shaped diamonds weighing approximately 2cts. It is stamped and tested as platinum and 18K gold; Issac Nussbaum.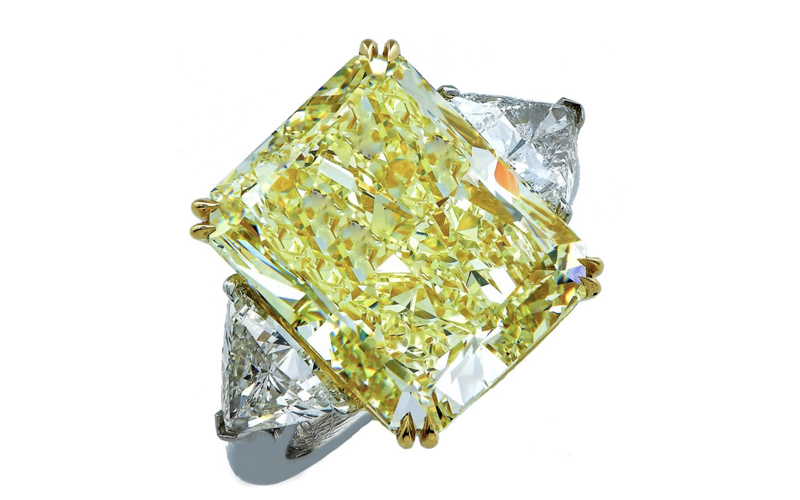 Fine double loop earrings by Graff mounted in platinum and set with round and pear shape diamonds; Morelle Davidson.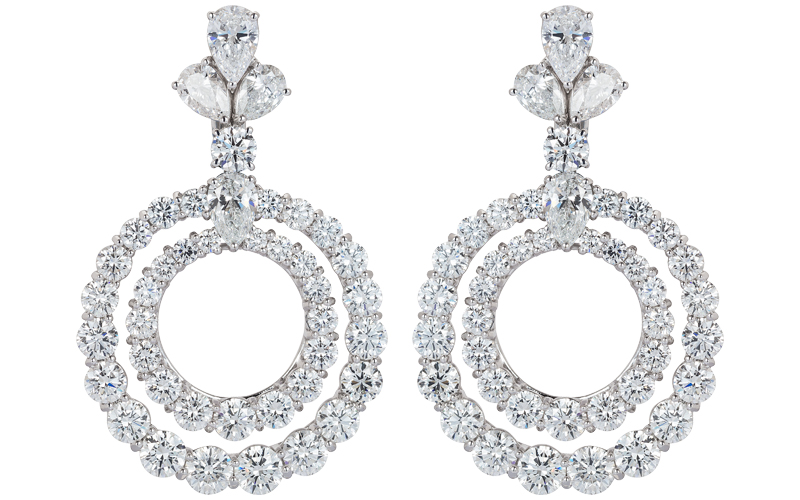 The four-day expo will include Contemporary, Edwardian, Art Deco and Victorian collections from leading jewelry and watch dealers from around the world. Open to members of the public, the new waterfront locale will add to the luxurious ambiance of the show as guests will be surrounded by rare and historic collections as well as fabulous watches unmatched by any other show in the country.
Exhibitor Steven Neckman is looking forward to exhibiting at the Miami Beach Jewelry and Watch Show as the new location will enhance the overall experience of the show.
"I am very excited about the new location as it is centrally located for Miami, Coral Gables and Miami Beach," Neckman said. "I know the location has great and easy parking and that the purpose-built facility affords everybody easy entry."
Charamonde Jewelers, exhibitors that specialize in estate jewelry primarily from fine jewelry houses such as Cartier, Van Cleef & Arpels and Harry Winston from the 1950's through the 1970's, are thrilled to showcase their jewels at the new show location.
"I think that it's a great venue! There is a precedence for the new location to have tremendous success for a show," said Kris Charamonde of Charamonde Jewelers. "The venue is well-known and it's very successful for the Art Basel fairs that take place there, so I believe our show will do very well."
The Miami Beach Jewelry & Watch Show will take place on February 1-4, 2018, at One Herald Plaza (NE 14th Street & Biscayne Bay, Miami, FL 33132).
General Admission Show Dates:
Thursday February 1 11am - 7pm
Friday February 2 11am - 7pm
Saturday February 3 11am – 7pm
Sunday February 4 11am - 6pm
About the Palm Beach Show Group
Palm Beach Show Group is a leading full-service show production company in the world, specializing in fine art, antique & jewelry shows. The Palm Beach Show Group produces high-end events that create unique meeting places for collectors, art advisors, museum curators, interior designers and dealers.
The Palm Beach Show Group believes that bringing together dealers and attendees in major cities throughout the country allows for an incredible culmination of education, entertainment and commerce that cannot be found anywhere else. Whether young or old, seasoned or novice, a Palm Beach Show Group event creates bonds between generations.
Palm Beach Show Group Show 2018 List:
LA Art Show: January 10–14, 2018
Miami Beach Jewelry & Watch Show: February 1-4, 2018
Palm Beach Jewelry, Art & Antique Show: February 14–20, 2018
Palm Beach Fine Craft Show: February 15–18, 2018
Naples Art, Antique & Jewelry Show: February 23-27, 2018
Baltimore Art, Antique & Jewelry Show: August 30- September 2, 2018
Baltimore Fine Craft Show: August 30- September 2, 2018
New York City Jewelry & Watch Show: October 26-29, 2018
Palm Beach Art, Antique & Design Show: December, 14-16, 2018
For more information, visit www.palmbeachshowgroup.com